News
Recognized standards sought for TCM in EU
Issuing time:[2019/05/07]
By CHAI HUA | China Daily | Updated: 2019-05-07 09:05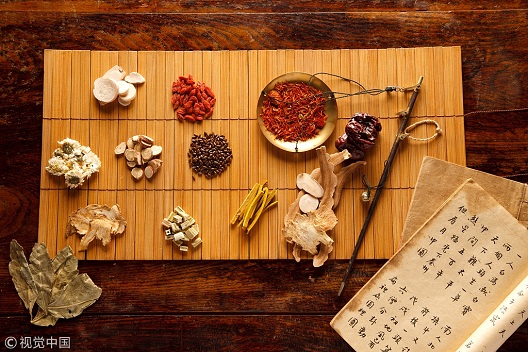 A file photo of traditional Chinese medicine. [Photo/VCG]
Aiming to expand internationally, traditional Chinese medicine is teaming up with European authorities to ramp up quality control.
"The interest for TCM is growing in most European countries. We need at least 200 new herbal drugs to meet demand. The number at present is only about 80 in the monograph European Pharmacopoeia," said Gerhard Franz, a former TCM group official and herbal expert in Europe.
Franz said there are still many obstacles for Chinese products entering Europe, including lack of pharmacological analysis of herbal medicine and control of pesticides.
"The future of TCM depends on its integration with international standards and markets," he said.
Franz made the remark at the International Forum on Traditional Chinese Medicine and Botanical Medicine in Shenzhen in late April.
The traditional Chinese medicine industry has already been rethinking its international development model.
China's 13th Five-Year Plan (2016-20) calls for strengthening the integration of systematic biology, big data, artificial intelligence and other cutting-edge technologies to find scientific evidence for the efficacy of TCM.
Focusing on international marketing, the Global Green Chinese Herbal Medicine Industrial Alliance was launched at the forum. The alliance is a collection of domestic and overseas herb-related enterprises upstream, midstream and downstream of the TCM botanical medicine industrial chain, along with R&D institutions in the sector.
"We will focus on the quality control of Chinese herbal medicine from its origins, such as seeds, planting, harvesting, storage, transportation, heavy metals, pesticides, traceability and transparency in the management of the quality chain among members," said Wang Mei, one of the experts of the TCM working group of the European Pharmacopoeia Committee.
She proposes integrating the Chinese herbal medicine industrial chain with the European Union's quality standards to guarantee quality and facilitate globalization.
"The EU has a mature system of quality control in management and registration of the whole industrial chain that is recognized by nearly 100 countries," she added. "Another advantage is there are already precedents of recognized TCM by the EU."
Since 2012, six Chinese medicines have been officially registered as traditional herbal medicine products in European member states, including the UK, the Netherlands and Germany.
She noted that establishing a modern standard that's compatible with international ones is the key to increasing the number of TCM medicines recognized in international markets.
As part of traditional Chinese culture, TCM's methodology includes a series of unique concepts-for example, deficiency and excess-that are not recognized in international markets. Therefore, scientific translation of Chinese medicinal terms is another essential element in the globalization of TCM.
Wang said that application of systematic biology technology for TCM diagnoses' scientific and therapeutic evidence is key for acceptance of TCM worldwide.