News
From 2020 to 2035: Breakthroughs in China-EU cooperation
Issuing time:[2019/04/16]
By Chi Fulin | chinawatch.cn | Updated: 2019-04-12 19:20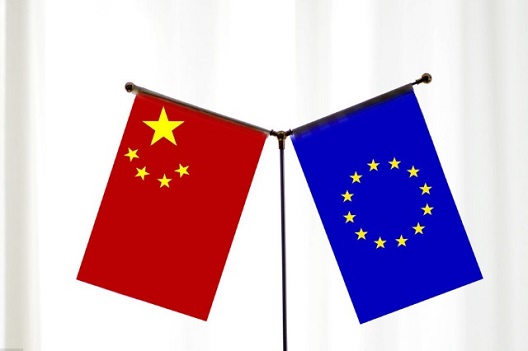 In the Joint Statement of the 21st China-European Union Summit, the two sides commit to conclude an ambitious China-EU Investment Agreement by 2020 and adopt a new cooperation agenda by the next summit.
Under the background of economic globalization, this statement is of great significance. In term of my opinion on the likely situation in 2020 and vision for 2035, the framework of the new China-EU cooperation agenda will be guided by free trade, safeguarding the rule-based multilateral trading system and focusing on trade in services.
With enhanced bilateral interaction, multilateral cooperation in sectors covering the economy, trade, investment, services, environmental protection, governance and sustainable development will be promoted.
China and EU are in face of historic opportunities.
The years from 2020 to 2035 will be a crucial stage for China's economic transformation and upgrade, a vital period for EU integration, and a historic window of opportunity for China-EU cooperation. So, the two should take hold of this window and make breakthroughs in economic and trade cooperation.
Initiating free trade negotiations in 2020. During a joint research on a China-EU free trade area by the China Institute for Reform and Development and Center for European Policy Studies, I proposed that feasibility research and negotiations on a China-EU free trade area should be started as soon as possible. Such research will given us more leverage when coping with today's unilateralism, populism and trade conflicts. In the Joint Statement, China and EU pledges to conclude an ambitious China-EU Investment Agreement by 2020, so I suggest initiating free trade negotiations at the conclusion of this agreement in 2020. To this end, the two sides should start feasibility research as early as possible.
An integrated China-EU market in 2035. The huge potential brought about by China's consumption to China-EU cooperation is yet to be unleashed, and EU will find China a much open partner. Form now on to 2035, the two sides need prioritize trade in services, strive to achieve an integrated market, promote a free flow of goods, services, capital, personnel and information, enhance coordination in currency, technology and macro policies and handle differences for greater common interests to make new breakthroughs in China-EU cooperation.
Injecting new impetus to global free trade and sustainable development. An integrated China-EU market is not an inclusive club of the two, but an effort guided by free trade to promote regional and multilateral cooperation. Therefore, such a market will not only expand market demands and stimulate sustained growth drivers in China and the EU, but also inject new impetus to globalization and the world's economic development.
Great importance should be attached to the New agenda for services trade cooperation.
Trade in services, an important driver for globalization and a focal point of global free trade, is where the greatest potential lies for China-EU economic and trade cooperation, and where the strength comes to accelerate free-trade progress with China-EU cooperation.
Huge potential. The EU is the world's largest economy and China is the fastest growing one in terms of trade in service. However, trade in services only accounts for roughly 14 percent in their bilateral trade, well below the global average of 24 percent. This requires us to seize the chance of China's upgrading consumption, break barriers for trade in services and promote liberalization and facilitation to allow the ratio of China-EU trade in services catch up with the world's average.
New priority for cooperation. There are many areas where China suffers huge supply shortages but EU possesses notable strengths, like medical treatment, healthcare, elderly care, education, environmental protection. There are also several other fields where the two could deepen cooperation, including future-oriented internet, 5G, artificial intelligence and digital trade. Hence, we suggest that the EU should step up efforts to facilitate service exports to and technology cooperation with China and that China should lower added-value tax levied on imported EU goods in the services and technology categories. Zero tariff or special added-value tax rates could be adopted for medical instruments for cancers and rare diseases imported from EU. And EU medical technologies and some drug standards could also be introduced into China to foster new China-EU trade in services.
Two-way opening up. The key to unleashing the huge potential of the services trade lies in two-way opening up of the services market. China is expected to further open up its market with a focus on the services sector, with measures already adopted in several fields. So, China and the EU should identify the two-way opening up of the services market as a focus of bilateral trade. Under the new circumstances, EU should accept China's market economy status as early as possible.
China and Europe both need to promote transformation.
Both bilateral cooperation and multilateral progress require China and EU to expedite their own structural reforms to break structural and institutional barriers hindering open cooperation.
First, structural reform should be included into a new cooperation agenda. China and the EU's efforts for open cooperation and trade and investment liberalization and facilitation at both the bilateral and multilateral levels have created new requirements regarding EU countries' reform of labor markets and the financial system as well as China's reforms in the services sector, urban-rural integration and market monitoring and regulation. Within the new agenda of China-EU cooperation, a China-EU partnership on reform must be placed at a more prominent position.
Second, principles of openness, transparency and sustainability should be held by two sides. China sees EU as a major partner in the Belt and Road Initiative since the EU has much experience in cross-border, regional and global connectivity and rules. So, the key lies in the early formulation of a list of major projects and execution for Eurasian connectivity within the BRI. And efforts should be made to deliver these projects under the principle of openness, transparency and sustainable development.
Third, China and EU can jointly boost changes of global economic and trade system. Bilateral cooperation between China and EU is rather important to safeguarding the multilateral system with the United Nations at its core. So, when it comes to the issue of UN reforms in particular, China and EU are committed to defending a free trade-based multilateral cooperation system. So, to promote global economic governance reform, China and EU should expedite reforms on the WTO dispute settlement mechanism, transparency and market monitoring and regulation, jointly initiate new issues for discussion to encourage the inclusion of fresh elements from new regional trade agreements into the WTO, and build an upgraded version of a WTO multilateral trading system.
Looking forwarding into 2035 while based in 2020, China and the EU should leverage the positive role of think tanks in the discussion of the new cooperation agenda and support the think tanks to start relevant research as soon as possible in order to seize the new historic opportunities on offer.